Well, the title is quite catchy cause i had no idea what to call that thingy... It all started once upon a time when i wanted to start putting together a Black Kit for CQB games. Initially i was (and still am...) against black gear. I believe they look crappy, they don't help unless you play in night games and finally they are so passe... I decided to go that way because the rest of the team wanted to do so, so...
So, i looked around for a Protec style helmet that was mainly going to protect my head. It had to be non-military looking. I found on sales (cheap bastard...) at Chainreactioncycles a 661 Dirt Lid. I bought the black one to help my aftermarket work. I chose the small size on purpose. Usually helmets look huge on me, so i went for the small one and later i removed the inner crap and got left with just a light padding.
Everything started like this: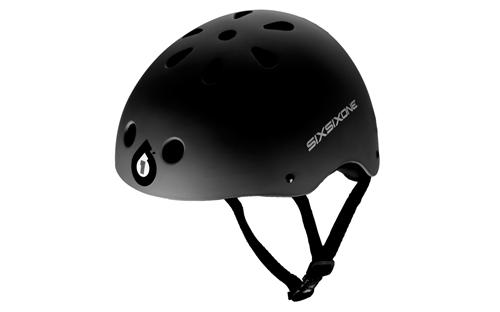 and ended like this:
Interesting, ehhhhh? Well, it's not that difficult and crafty after all...
The Velcros
The Velcros is nothing fancy. Just cut some stripes of black velcro and used hot melt glue to paste them down. I added extra glue all around them to secure them. I didn't bother painting the glue, since the helmet was gonna be painted.
The Bling Bling
Well, i tried (and insist on the word "tried"...) to keep this one fairly simple... Well, i just put an NVG mount, a Helmet Light and a pair of extra glasses on it. It's light, innit?
Actually the NVG mount is the one i had from my MICH wannabe. It's meant for the PASGT helmet, but it stays on this one just fine. For some reason i love the way that this mount with the plastic safety clip looks on a non-military helmet.
As it was made for CQB games, i liked to have some light on it. So, i want the more high speed way and purchased a replica of the Surefire LH1 light. Originally it was black, but it got painted like the rest of the helmet. I have to mention here, that this light is supposed to be mounted on thick Kevlar helmets. I had to modify it to fit on a plastic shell like mine. I also removed some part of my helmet to make it sit correctly. Finally i avoided installing it on a level parallel to the ground. It's a freakin light, it's supposed to light my path. So, i made it look at about 45 degrees. This way, it gives me the ability to see where i am going, but beong able to see who is coming my way at the same time...
The paintjob
Inittialy i was gonna leave it all black... But i am happy to announce that our team is getting rid of the Black Kit. Thanks God of Airsoft!!!!! I wanted to keep the helmet, but the black had to go. Since the other one is desertish, i had to find some paintjob for this one that would be different. I chose the following colours:
Dust Grey by Montana
Dark Brown by Humbrol
Manilla Green by Montana
I didn't use a spesific pattern. I just laid a plastic sheet with a very small net and applied mists of colours from a distance. I applied light coats in order to avoid coverring 100% of the black underneath. I am very happy with the result as i believe that it would work in CQB, Urban and Woodland games (at least under spesific circumstances).
Till next time folks...